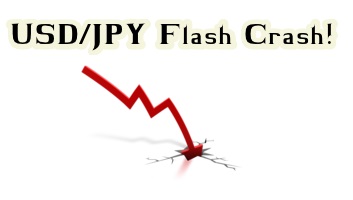 USD/JPY Crash January 3, 2019
USD/JPY
slides 3.4%, most since Nov. 2016, to 105.18.
USD
/JPY drops more than 300 pips in minutes as risk aversion hits markets.
USD/JPY plummets in early thin Asian trade on the back of Apple noise.
USD/JPY has dropped to a low of 105.
The FX space has been shaken up in early Asia on the back of the news wires that Apple has seen a `significantly greater' impact from some EM weakness, cuttings Q1 revenue guidance
and seeing Q1 revenue around US.Dollar 84bn (from 91.3bn) - As a result, risk aversion has hit the screens with the yen picking up a so called safe haven bid that has seen
US.Dollar/Yen
now drop 3.4%, the most since Nov. 2016, to 105.18.
AUD/JPY
was the catalyst, the markets risk barometer, that has fallen through stop territory like a stone triggering big moves across the board. AUD/JPY fallen to 71.82 and Aussie to 0.6745/90 depending where you look.
However, if this is just a flash crash, the market should adjust on mean-reversion, although it does leave a very bearish picture for the start of the New Year and can be an indication of what is coming in weeks ahead - whether we could see such a move in more liquid markets is unlikely, but nevertheless, China is going to be driver ahead of Brexit risks and sentiment surrounding the Fed reigning in their path of tightening..
USD/JPY levels
The price has now taken out stops and brings in the 102 handle on the downside. S3 is located at 105.50 on the monthly timeframes as first key support. RSI is turning more negative on the same time frame and negative, the downside risk is increasing. On the upside, 109.20 is key and while below there, there remains a bearish bias.
Author:
Ross J. Burland
Source:
https://www.fxstreet.com/author/ross-j-burland